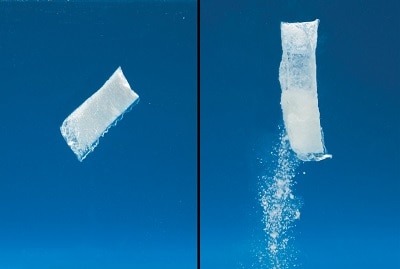 A recent market study points to a growing interest in PVA (polyvinyl alcohol) films, partially driven by increasing demand for convenient, environmentally responsible packaging. Cortec® is listed as a key company in the PVA film market and makes EcoSol® in answer to this specialty packaging need.
Benefits of Water-Soluble Packaging
EcoSol® can be made into water-soluble PVA bags, sachets, or pouches for a range of uses. One of the main benefits is that it eliminates the direct handling of chemicals, dirty laundry, or other items that may be better not to touch. EcoSol® makes products extremely convenient to apply simply by tossing the pouch or bag into the target environment, allowing water to dissolve the PVA film and release its contents. EcoSol® also enables precise dosing of chemicals or other ingredients. Finally, EcoSol® makes packaging disposal easy by dissolving into a harmless aqueous solution of polyvinyl alcohol that degrades in the presence of microorganisms typically found in a wastewater treatment plant.
Where to Use PVA Film
EcoSol® packaging has countless possible uses:
Precise dosing of concrete admixtures (just toss the pouch into the concrete mix)

Safe and convenient application of water treatments (add the chemicals to the water without directly handling them)

Contactless hospital laundry processing (toss EcoSol

® 

laundry bags into the washing machine without even having to touch the soiled linens)

No-mess measurement of detergents and cleaners (add one detergent pouch to the dishwasher with no drips or spills)

No-hassle product formulation (make it easy to add-in pigments, biocides, or other additives to a formula)

Manufacturing of fun and easy-to-use consumer products (e.g., bathing products or children's science kits)
The list goes on. Many industries need water-soluble packaging for one reason or another, and EcoSol® is here to meet that need with a convenient dual product delivery and packaging disposal system. Contact Cortec® to discuss details for your specific application: https://www.cortecpackaging.com/contact-us/
Keywords: water soluble packaging, PVA films, polyvinyl alcohol, laundry bags, concrete admixtures, packaging films, environmentally responsible packaging, Cortec, EcoSol, packaging disposal
For a PDF version please click here.